Our mission is to enhance the fly fishing experience of all our customers, to bring fly fishing fun to everyone, and to promote conservation of our fish and fishing waters.
The Idaho Angler opened its doors in June, 1993, in downtown Boise. The shop was founded by four friends, all long time, avid fly fishers. The shop was born out of our experience in fly fishing the western U.S., Alaska and various saltwater destinations. We had observed some great shops around the country, and surveying the Boise/Southwest Idaho scene, we formed a vision for a great fly shop here in the Treasure Valley. That shop would provide great customer service and fishing information, offer classes on a continuing basis to all levels of fly fishers (and especially fly fishers-to-be), offer a full and extensive array of great products, and offer a pleasant, open and friendly-to-all store environment.
Since opening the shop in 1993, we have continued to strive to achieve our vision. In 1997, ardent fly fishers Rick and Shauna Williams bought the interest of John Croner in the shop. Rick has a PhD in fish genetics, is a published author on fish conservation and salmon recovery, and is an FFI certified Master Instructor.
In 1999, we built a beautiful new store on Vista Avenue, a gateway boulevard to Boise, which provided more room, an outdoor casting area, and easier customer access.  In 2016, we completed a substantial expansion and remodel of the store and support facilities.  The shop focus continues to be on customer service, expanding classes and clinics, and providing the best possible current fishing information.
Don is an FFI Certified Casting Instructor and lifelong fly fisher. He is passionate about fly fishing as a sport. His favorite fishing spots include the South Fork of the Boise River, Silver Creek, the Owyhee River tailwater, and any saltwater flat where permit, redfish, bonefish or tarpon are found.  Don is a longtime supporter of Trout Unlimited, Fly Fishers International, The Henry's Fork Foundation, and the Nature Conservancy.  Don has been CEO of Idaho Angler since the beginning.
Joy is an FFI Certified Casting Instructor, and founder of The Idaho Angler's programs for women. For over 20 years, she has led a women's fly tying group, which meets monthly from November through March. Her favorite fishing destination is the Laguna Madre at South Padre Island in Texas.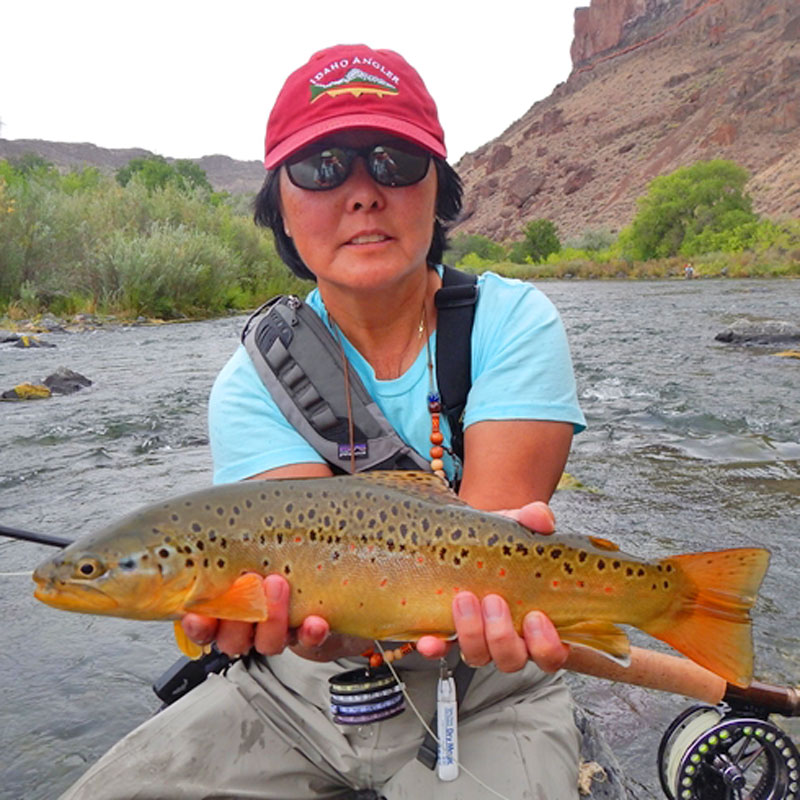 Shauna, a Boise-area surgeon, is an accomplished fly angler. She enjoys all fly fishing, but steelhead fishing and chasing bonefish are her two favorite pursuits. She and Rick host many of Idaho Angler's international fishing trips. Shauna is also an FFI Certified Casting Instructor who donates her casting and medical expertise each year to Casting for Recovery in Idaho since 2005, a program that uses fly fishing to support recovery for breast cancer survivors.
Rick is an Idaho native, an avid steelhead and saltwater flats angler, and a FFI Certified Master Casting and Two-Hand (Spey) Instructor. He teaches Idaho Angler's advanced and Spey casting classes and hosts international fishing expeditions to various steelhead and saltwater destinations. He is a nationally recognized salmon conservation biologist and author, and serves as a Senior Conservation Adviser to Fly Fishers International (FFI). In 2018 Rick was presented with the FFI's Lifetime Achievement in Fly Casting Award.
Founder/Owner & World-Class Flyfisherman
Ken was an excellent and adventurous fly fisherman, a dedicated conservationist, and as fine a man as you could hope to know. In October of 2015, Ken died in a tragic boating accident during a fishing expedition on a tributary of the Amazon River in Brazil. We miss him.